70.5 SP - The perfect blend of advanced technology and aesthetics.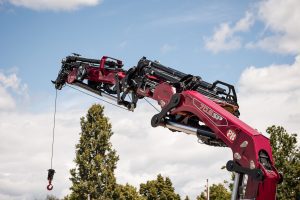 The 70.5 SP is the greatest engineering and production effort that PM has made in recent years: this crane has been meticulously designed with the aim of delivering a high-performing, efficient and safe product. It is equipped with the best electronic technology available today and we also researched and incorporated smart solutions into its exclusive new input-output device, which offers major improvements that are set to take efficiency to a whole new level.
In this respect, a truly outstanding solution is available for all crane inputs and outputs, which are now set up in such a way that they can instantly and directly interface with all accessories. In this way, new expanded features that best meet customer needs can be applied, either when placing an order or later on, without requiring any changes to the system.
The 70.5 SP has been carefully designed down to the last detail: in fact, it not only has an unparalleled, visually appealing design, but also, and most importantly, it plays a crucial role in the optimisation process, making it extremely easy to access the key elements for connections.
The option of applying panel connectors marks a breakthrough, as well as offering a huge advantage for fitters in that it allows potential errors when connecting accessories (such as supplementary outriggers) to be eliminated almost completely. Naturally, as you can guess, this is also a major plus for all operations as it is no longer necessary to remove the protective coverings installed on the various elements, since all parts are fully visible.
The high quality of its design is also evident in the electronic controls.
The new Power Tronic control unit, which has three CAN-BUS lines and controls all aspects of machine operation, and the new redundant sensors ensure the highest possible level of safety, efficiency and precision in controlling the crane, which is engineered in compliance with the strict requirements of the latest safety standard EN 12999:2020 for loader cranes, effective from 15 April 2023.
In order to be able to connect the crane to the vehicle much more easily, we have redesigned the power supply box, which now has a fuse with a status LED for each function. In this way, it is also possible to swiftly determine the cause of a failure. In such a case, our customer service team will be glad to offer their assistance in a transparent and prompt manner.
Additionally, the wiring system has been optimised, which is now standardised for all our cranes, which means that repairing the crane will also be more affordable and it will even be much quicker to find and solve problems.
A detail worth mentioning, for those who prioritise safety just as much as we do, is the decision to use flame-retardant braided sleeves, which are made of special materials. This allows us to ensure that our cables and surrounding elements are well protected, since they are not only resistant to high temperatures but also flame retardant.
The new design of the ABS guards perfectly matches the features, which we carefully redesigned for the entire project. These products are made of high-strength materials and are installed on each side of the column and on the lower part of the crane to protect it; here we also installed a walk-on platform for quick routine maintenance or emergency operations. Moreover, these protections are highly effective even when it comes to preventing weathering and materials from falling accidentally and hitting devices below and, at the same time, ensure adequate protection during washing.
Our multifunctional display, which is installed in the lower part of the crane, is equipped with an efficient software that makes it easy to monitor potential blockages that may arise (limit switches, excessive temperature, and so on). A special inspection door on the ABS protection, with gasket and friction hinges, provides quick and easy access to available information, proving once more that PM pays special attention to the design of its cranes: in fact, every single detail is not only meant to be an attractive optional feature, which is both modern and fascinating, but is also and above all meant to be functional.
The direction taken with the new 70.5 SP is clearly defined. The many innovations, both large and small, that this machine has to offer are such that it sets the benchmark for truck-mounted cranes, offering an ideal combination of record-breaking performance and attractive design.