7 SP. Highly versatile with record dimensions
Following the successful launch of the all-new, futuristic 70.5 SP, which, once again, saw PM Oil&Steel S.p.A. attract growing interest and approval from both new and loyal customers, we are equally excited to introduce the smallest product in the Gold range, our high-performance segment.
7 SP. The little one of the PM family.
By choosing this name, PM offers the qualities of a truck crane that has been specifically designed and assembled to fully meet standards of practicality, affordability and performance, which are the pillars of our commitment to fulfilling the main requirements of professionals in the industry, at a low affordable price and without compromise.
When conceiving the 7 SP, the key features that the R&D team decided to focus on were a compact design and lightness. As cliché as it may sound, we believe that these features are truly essential; in fact, thanks to its low weight, achieved by reducing the overall dimensions and using high-strength steels, this crane can be installed on a commercial vehicle weighing as little as 6 tonnes (GVW), which shows just how versatile it is, with benefits also in terms of fuel consumption and operating costs, which, as a result, will be lower.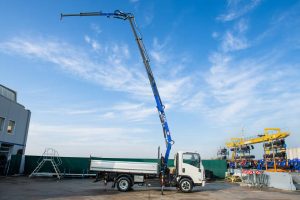 We have thought of everything. By implementing the 180 degree rotating stabilisers, we were able to create more space under the base of the crane so that it can be installed on all kinds of vehicles on which full access to assembly spaces is required, such as Euro 6 vehicles and, in particular, fully electric vehicles. This also shows that we pay special attention to the needs of those who, just like us, believe in the importance of becoming environmentally sustainable.
Another solution that has enabled us to achieve an impressive result, thus reaching an unrivalled level of performance, is the fact that we have applied the linkage only to the secondary boom. This decision was made with a view to cutting costs while offering maximum operating power in a vertical position, with no strain on the load-bearing structure.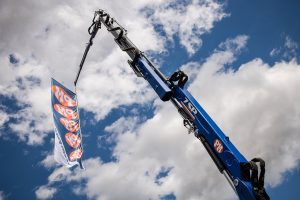 The 7 SP may be small, but it will surprise you. One thing that makes it almost unique among machines of the same size is the fact that it can extend significantly thanks to the option of mounting the jib with two extensions on the basic machine configurations with two or three telescopic elements, plus the option, among others, of installing the single-seat operator basket, with a load capacity of up to 120 kg. This technical solution places us among market leaders and makes us pioneers in the industry.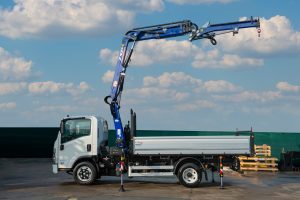 The high standards of safety of PM, along with its features, are rigorously and completely ensured by the Power Tronic Smart control unit that also manages all the electronic control functions, resulting in unprecedented user-friendliness, which makes the 7 SP suitable for any lifting task, offering a powerful overall performance. Whatever the size of the crane, 'Smart' is one of our watchwords. Jib management is also electronically controlled by the 'JMP' function: a sophisticated limiter calibration system that automatically optimises performance so that all working configurations are maximised to their full potential.
Affordable, versatile and masterful. Although small in size, and besides offering unprecedented performance, PM 7 SP gives new impetus to PM's growth journey, proving that we are among those who are revolutionising the lifting industry. As with the 70.5 SP, we feel that the most effective and tangible way to appreciate the huge value of this new truck crane will be to see it in action on the streets and in work sites, where the real stars are the workers who will have chosen a solid brand such as PM.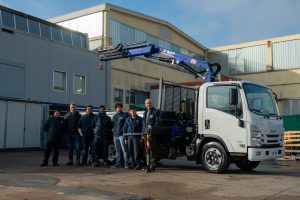 PM 7 SP R&D TEAM